Myth
Before I show you that Habermas-Licona-Craig scientific miracle proofs are mythic, let me remind you what POCM means by "myth."
When a subject has meaning, what people care about is the meaning. If something is important and someone's telling about it, the facts they tell are the facts that show the meaning. That's what they should do.
But pretty soon folks are not just picking facts, they're stretching facts. George Washington the boy cut down a tree but 'fessed up, because He Could Not Tell a Lie. Mother Teresa cured cancer With Her Holy Touch. Experts say the John Rylands paperus proves scientifically the Gospel of John was written before 125 AD.
People who stretch facts like this are not liars. Remember, they're telling a story whose meaning they already know. They're not lying, they're filling in details as they know they must have happened.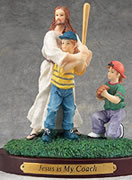 And of course when stretchers fill in details, the facts they choose are facts that make sense to them, to their culture, to the time and place in which they live. When the person who wrote the Gospel of Matthew filled in the bit about Jesus' birth, he included divine prophesy and magic dreams, because those were standard ideas away back then. This makes it easy for us to spot old myths; they're stretched out with ideas we don't believe. Prophecy. Magic dreams. But it makes it hard for us to spot modern myths; they're stretched out with stuff from our own time and place, stuff from our culture. Habermas-Licona-Craig stretch their stories with "facts" about science and expert opinion—just the sort of stuff we ourselves are suckers for.