is about a question you probably never thought about: Did Christianity borrow ideas from other religions?
If you're like me, you grew up thinking it didn't. We were taught Christianity began with a big bang, with Jesus. Jesus changed the world with ideas about God that were new and revolutionary.
It ain't so. Our Christianity doesn't come from Jesus and a big bang. It comes from the accumulation of legends and theologies by people who believed in Jesus. The origin of those ideas wasn't Jesus. The origin was the myths, legends, philosophies, prejudices, literature, superstitions, and primitive cosmology of ancient western culture. Christianity is a product of its time and place.
That's what POCM is about.
Notice what POCM is not about. POCM is not about is the historical archeological evidence that Nazareth was, or was not, real place. POCM isn't about the scientific probability of a resurrection. Those are "facts." POCM isn't about a naive pursuit of the historical "facts" contained in our Jesus stories.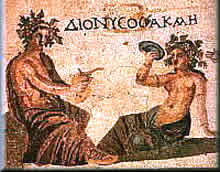 What POCM is about is about the back story, the meaning conveyed in those facts. Jesus was a man, sure. But He was also a God. He did miracles. His mother was a mortal woman. He walked on Earth, taught disciples, died and went to Heaven. He was a savior. POCM is about where those features of our Jesus stories come from.
The idea of a godman who comes to earth, teaches disciples, dies and rises up to Heaven where he judges the dead and rewards the righteous —where did those Christian ideas come from. Are the even originally Christian? That's what POCM is about.